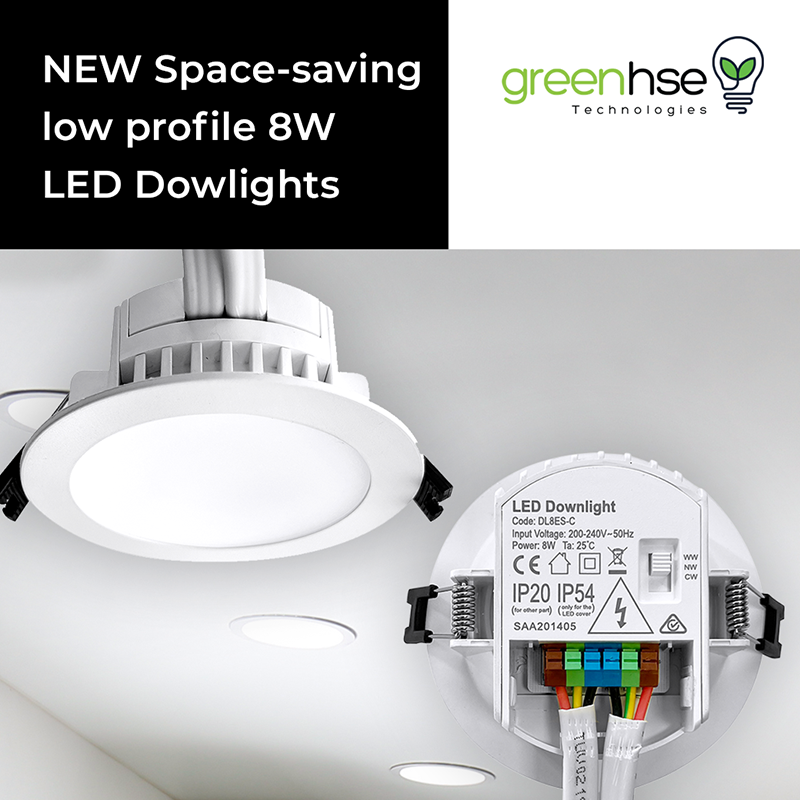 The LED downlight market is extremely competitive. As a result manufacturers are making cheap downlights and are compromising on quality to compete in the market.
Greenhouse Technologies has been in operation for almost 2 decades and is a reputable and trusted LED lighting supplier in Perth. We are committed to providing you with the highest quality, technically advanced LED lighting products at wholesale prices. Quality is always guaranteed.
In order to compete in this low-cost market we have come up with a new solution that enables us to supply a high-quality LED downlight with a long 50 000hr lifespan. All this at a lower cost.
We have made the downlight smaller to reduce material cost
We have eliminated the need for a GPO which would cost $1.20 or more
We have eliminated the cord and plug on the downlight thereby saving costs
In addition, the downlights take up ⅓ of the space of normal downlights with sockets
This reduces shipping costs and more importantly, saves you space
No need to connect sockets and secure sockets to beams which saves you time. No screws, simple quick connect with secondary loop for multiple light connections
In conclusion, Greenhse Technologies NEW 8W low-profile cost saver also has high CRI, high lumen output, and a long lifespan. Good heat dissipation with no flickering and no UV. Built-in driver, TRIAC dimmable, Beam angle of 120º.
Recommended for homes, offices, retail, schools, supermarkets, etc. Good for areas with shallow ceilings - depth of 40mm. Good for public areas such as stairways, reception areas, corridors, etc. PF≥0.9
Half the storage space required
Same High Quality
Long Warranty
Please be sure to check out the detailed comparison below of our 8W LED Low Profile downlight with alternative suppliers' cheaper options;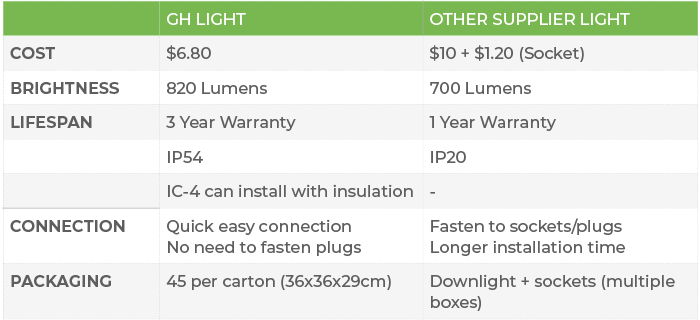 Click on the video link below to check out our new cost-saving, low-profile 8W LED Downlight for yourself to see just how easy it is to install.