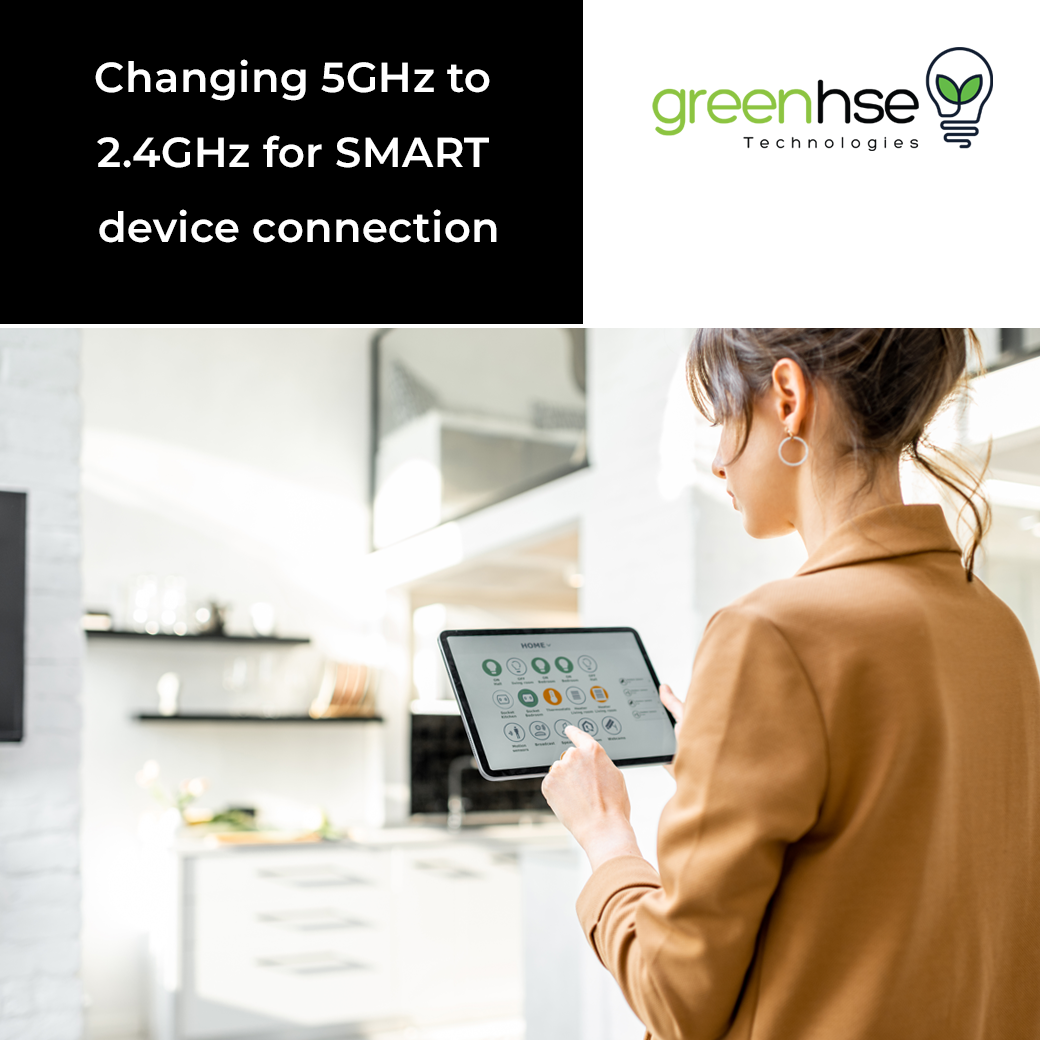 Smart devices are set to work on the 2.4 GHz frequency and will not connect and work on 5GHz. Even though 2.4 GHz carries less information, it has better range than the 5 GHz frequency band. The problem, however, is that many of the newer models of routers come with simultaneous 5 GHz and 2.4 GHz bands, called a Dual Band Router, and the 5GHz is quicker and tries to connect to the devices, thereby preventing them from connecting.
In order to enable linking, a seperate 2.4 GHz band is required, or the 5 GHz band needs to be temporarily turned off while linking. During the linking process, both your mobile device and your smart device need to connect to the same 2.4 GHz signal.
You do not need to disable the 5GHz band if you can separate the two bands by logging on to your router and, through the settings, changing the name (SSID) of each band. i.e., my network 2.4 and my network 5. Then, connect to the WiFi name allocated to the 2.4GHz band on your phone and use the same name and password when linking the smart device.
Logging into your router configuration page:
Your router has a configuration page where the user can change and alter settings, wifi name and password. You can also log in and set up a dedicated 2,4GHz network to differentiate this from the 5GHz. You can also set your own name and password for each band. The login information will normally be printed on a label on the router.
Every router has an IP address (internal Protocol) that can be entered into a web browser's address bar. The most common universal IP addresses are: 192.168.0.1 OR 192.196.1.1 After you entered one of those two addresses, a username and password box will show up.
The default login information should be located on the label of the router.
Typically, it will be :
Username: admin
Password: blank or admin
Once you are logged in, you will be able to go to the wireless page and set up your own dedicated 2.4GHz network. Sometimes selecting the 2.4GHz "Guest" network may be necessary, as this has less security options.
NOTE: Some Wifi Routers will have a function called "Band Steering" This can be useful for 5GHz products, as it will prioritise 5GHz but when moving further from the router will switch to 2.5GHz to maintain a connection. The problem with Band Steering is that both the 2.4GHz and 5GHz will have the same name and password. In order to set up different names, this will need to be turned off.
TIP: Standard Home Routers are not designed to handle many devices, often 12 is the maximum on each band. If you exceed the number of devices, you will find these disconnecting on your phone. WiFi Extenders can increase the number of devices up to 300 or more and offer better and quicker WiFi management and range.
If you add a WiFi extender, using a data cable link, (recommended) and use the same name and password on the 2.4GHz and 5GHz extender networks, turn off the router WiFi and your devices will not need to be reset.